dnaugtbass
biography
2

July 25th, 2009 + 1:07 PM
·

dnaugtbass
The last song on the CD -
Kind of different than our other songs.
11

This is the non-CD mix - the instruments are clearer on this one. The vocals have different effects, which really aren't as good as the CD version.
2

This is bats - not the mix on the CD- I like this one a little better. Track #4 on the CD though.
7

July 19th, 2009 + 5:07 PM
·

dnaugtbass
track 5 - about our drummer, Cody's ex-girlfriend.
0

July 19th, 2009 + 4:07 AM
·

dnaugtbass
Track 7 from Dreadnaught "Off Course" 1995
Keyboard player wrote the keys, we added some more, and it sounded like rain.
Thanks for listening.
Let me know what you think
Alias:
dnaugtbass
Status: Offline
Threads:
10
Posts:
39
Songs:
10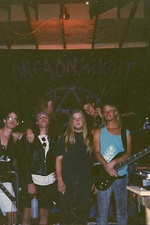 Joined: July 01st, 2009
Last login: March 05th, 2017
My Messengers
| | |
| --- | --- |
| AIM: | n/a |
| ICQ: | n/a |
| Skype: | n/a |